21st Dec Mnajdra Winter solstice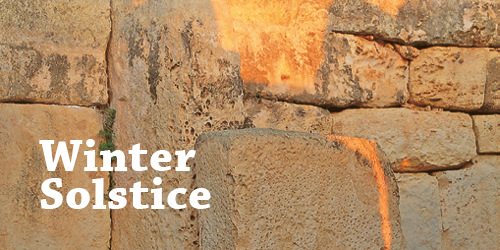 Date 21/12/2021
Heritage Malta is inviting you to welcome winter on the 19th and 21st of December during the Winter Solstice at Mnajdra Temples.
The winter solstice is the shortest day of the year and is the first day of winter. Part of Mnajdra, which was one of the Neolithic complexes built between the 4th and 3rd millennia BC, was built to mark the position of the rising sun on the first day of each season.
Visitors will watch the sun rise as the sun's rays light up the very edge of a megalith found along the passage connecting the first pair of chambers to the inner chambers. Considering that the people who built these buildings were farmers and their livelihood depended on agriculture, the changing seasons probably had a special significance and they may have also been a time for gatherings and celebrations.
A tour will also be given of the surrounding Natura 2000 site and the Central and East buildings at Mnajdra. Complimentary coffee and snacks will be offered to participants before the tour.
To guarantee that all visitors get to observe the rising sun from inside these sites whilst respecting social distancing measures, a very limited number of tickets are available on both dates of this event.
Time: 06.20hrs outside the Ħaġar Qim Park Visitor Centre
Price: €30 per person, €20 for Heritage Malta members.
Tickets are available from all Heritage Malta sites and museums, and online on shop.heritagemalta.org
Participants for these events are to meet at 06:20am outside the Ħaġar Qim and Mnajdra Visitor Centre.
Attendees must wear a face mask and respect social distancing measures.
| | |
| --- | --- |
| Adult Price €30.00 | |
| Member Price €20.00 | |
| Senior Price €30.00 | |
| Student Price €30.00 | |
| Children Price €30.00 | |
Add to cart