Underground Valletta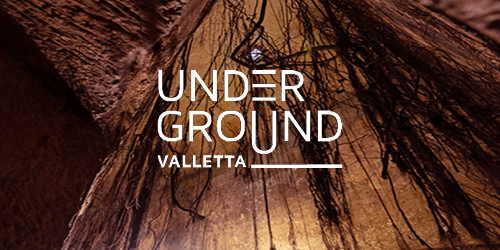 Descend into the fascinating depths of Valletta, built foremost as a fortress, then a city.

Valletta's underground was its lifeline. Apart from tunnels for storage of grain, cellars and movement of troops, underground spaces were essential for two other crucial factors: water and drainage, both vital for the survival of the city under siege, as well as during peacetime.

Centuries later, a new frenzy of digging began. The Second World War saw 17,000 tonnes of bombs dropped over Malta. The population of Valletta moved underground into a dense network of shelters that expanded on existing tunnels and cisterns to shield people from certain death. A tale of desperation, and resistance.

Valletta, a world heritage site, cannot be fully appreciated without experiencing what lies beneath it.

Tours to Underground Valletta take place on Mondays, Wednesdays and Sundays at 10am, 11am, 12pm, 1pm. Tours are given in English and start strictly on time.
Visitors are kindly asked to arrive at the National Museum of Archaeology, Republic Street, Valletta, 30 minutes before the start of their tour. Visitors are requested to leave their bags in secure lockers at the museum, and will be given the equipment required for the visit, such as head torches and bump caps. The tour guide will then conduct the visitors to the site (less than 5 minutes away). Failure to be on time may result in entry refusal. Tickets are not refunded or exchanged.

Please note:
- For their own safety, children under 12 years cannot be admitted. Children who are 12-15 years old must be accompanied by an adult.
- Underground Valletta is an enclosed underground space. If you are susceptible to claustrophobia, you may experience some discomfort.
- Humidity levels are high and therefore some areas may be slippery. For your safety, please wear closed, comfortable shoes. Visitors wearing high heels or flip flops will not be admitted.
- The site, which has a number of steps throughout the tour is unfortunately not accessible to wheelchair users and persons needing walking aids.
- Prices may change without prior notice.
- Tickets cannot be resold or transferred.
If you encounter any technical problems with the online booking system, please contact us on info@heritagemalta.org or +356 2295 4300.
| | |
| --- | --- |
| Select date | |
| Select time | |
| Adult Price €15.00 | |
| Senior Price €10.00 | |
| Student Price €10.00 | |
| | |
Add to cart